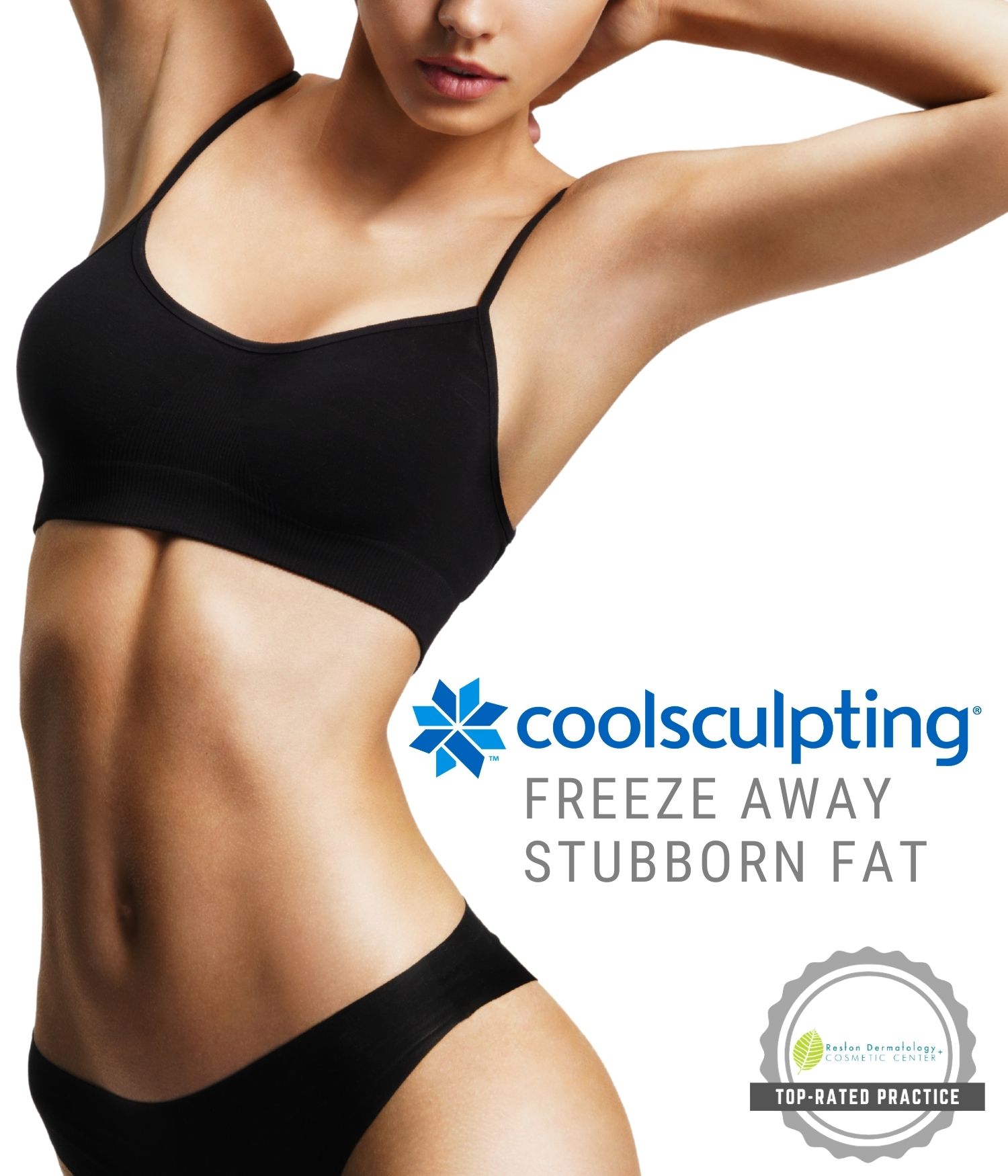 By submitting this form you agree to be contacted via phone/text/email.
CoolSculpting at Reston Dermatology + Cosmetic Center
CoolSculpting is a non-invasive fat removal treatment that uses controlled cooling to selectively target and destroy stubborn bulges. It's an excellent non-surgical alternative for localized fat pockets that have been resistant to diet and exercise.
CoolSculpting is the first and only non-surgical procedure to selectively reduce fat layers in problem areas that include muffin tops, love handles and back fat. Developed in 2005 and backed by strong clinical research, CoolSculpting is based on cryolipolysis (cryo = cold, lipo = fat, lysis = breakdown, disintegrate) the use of precisely controlled cooling to remove fat.
Cryplipolysis promotes fat cell elimination through a natural biological process known as apoptosis (death of cells that occurs as part of a normal lifecycle), without causing scar tissue or damage to the skin, nerves, or surrounding tissues.
Benefits of CoolSculpting
Noninvasive body contouring
Freezes twice the stubborn fat
Natural-looking results
Treat Multiple Areas
Long-lasting results
Safe and Effective
FDA cleared
CoolSculpting Before and After*
CoolSculpting has the ability to eliminate up to 24% of fat cells in the treated area. Women and men can expect to see visible slimming and sculpting effects within 4-6 weeks. Results will continue to improve and usually peak by 12 weeks.






How Does CoolSculpting Work?
Studies show that CoolSculpting is an effective fat reduction procedure. It received approval from the U.S. Food and Drug Administration (FDA) in 2010.
CoolSculpting's popularity as a fat removal procedure is increasing in the United States. Since then, CoolSculpting treatments have increased by 823 percent.
Why Choose CoolSculpting at Reston Dermatology + Cosmetic Center?
Because Reston Dermatology + Cosmetic Center has 20+ years' experience performing CoolSculpting treatments and experience makes the difference. Katja, RN, has 10 years of experience and has attended CoolSculpting University Master Program and has focused ONLY on performing CoolSculpting for the last 5 years. Shianne has also been treating CoolSculpting patients for 10 years; so together they've amassed a plethora of tips and tricks, pearls of wisdom, and dos and don'ts. Between Katja and Shianne, we offer 20 years+ CoolSculpting experience.
What Areas Can CoolSculpting Treat?
CoolSculpting is extremely versatile and can help women and men as well as younger and older patients remove excess fat and sculpt their bodies the way they want. It can be used to treat virtually any part of the body, including:
Abdomen
Flanks (love handles)
Inner and outer thighs
Hips
Banana roll (under buttocks)
Back
Bra line
Upper arms
Male chest
Double chin
Jawline
Treatment cost varies by area and desired outcome, but treatment starts at $1200. Come in for a free consultation for a treatment quote.
If you read RealSelf.com reviews about CoolSculpting, you will come across some people who say they saw zero results. This is sad because with our experience we get AWESOME results! Experience can make a huge difference! It's all about knowing how to apply the applicators for the most fat gathering, knowing which products can optimize your results, knowing how to position the applicators for the sculpted look you want, and knowing who is a good candidate.
Why not come in to meet one of our experts and discuss your vision for your body. Schedule your complimentary consultation today! Call us at (703)289-0918 or reach out to us online.
CoolSculpting Testimonials

By submitting this form you agree to be contacted via phone/text/email.

*Promotions: $1200 OFF CoolSculpting applies to the purchase of 8+ treatments. Cannot be combined with other offers.

By submitting this form you agree to be contacted via phone/text/email.