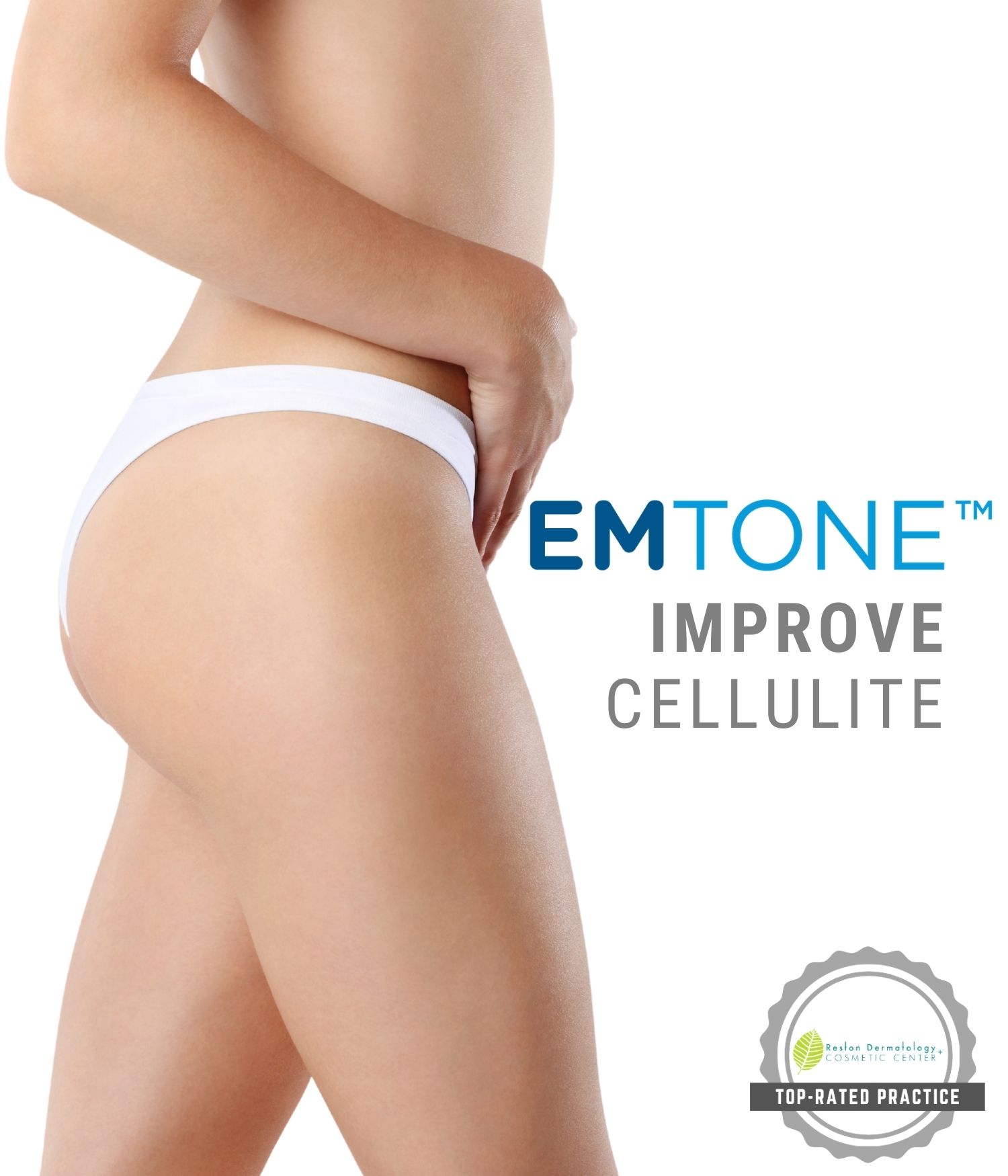 Schedule aN
EMtONE Consultation
By submitting this form you agree to be contacted via phone/text/email.
Emtone | Cellulite Removal Treatment
Emtone is a non-invasive cellulite treatment that targets the causes of dimpled-looking skin. It combines dual technologies to rejuvenate the skin at a cellular level. Emtone is excellent for diminishing cellulite in common problem areas like the buttock and legs. Furthermore, Emtone is fast and pain-free. Plus, there is no downtime.
Feel confident in your own skin. Learn more about Emtone and discover if this cellulite treatment is right for you.
Natural skin rejuvenation
Provides smooth, dimple-free skin
Targets problem areas like the stomach, buttocks, and thighs
Advanced technologies
Targets the significant factors that cause cellulite
Painless and requires no downtime
Comfortable, 20-minute treatments
Safe and effective
Emtone before and after pictures show the cellulite reduction results possible with this treatment. As with any cosmetic treatment, results may vary.* However, the people in these images are actual patients who are pleased with the noticeable improvements to cellulite in the stomach, thighs, and buttocks.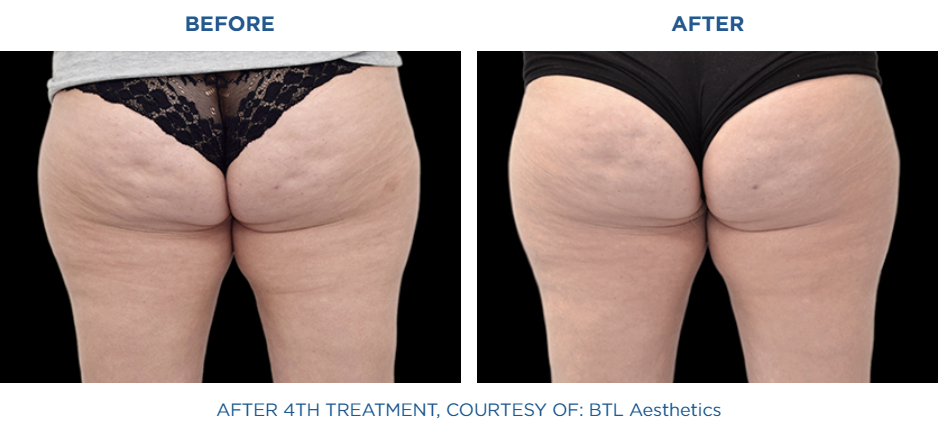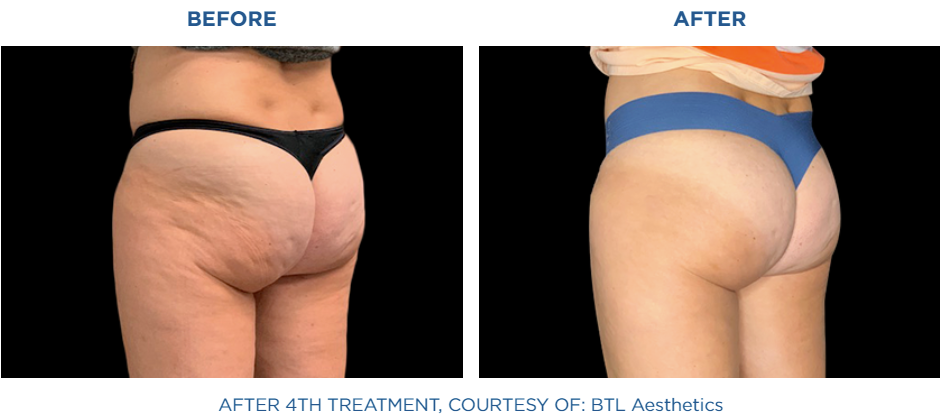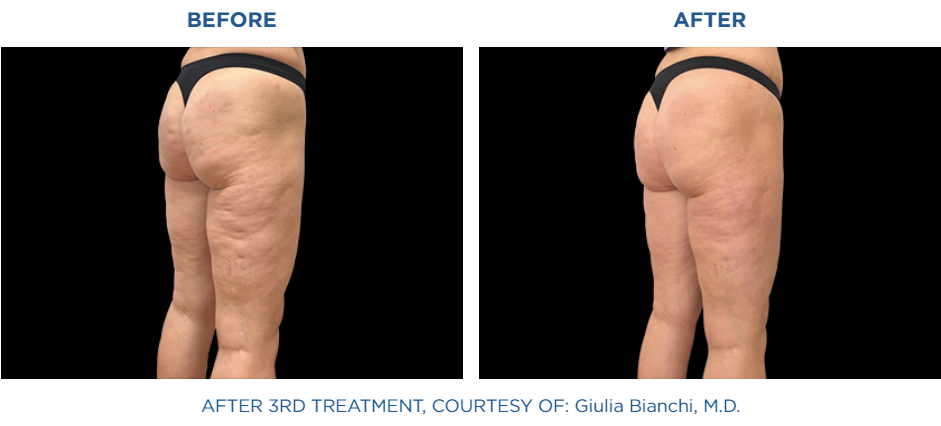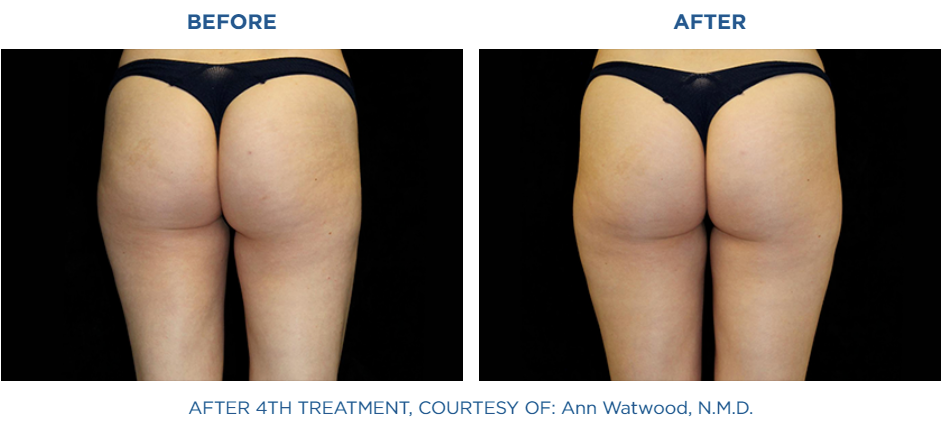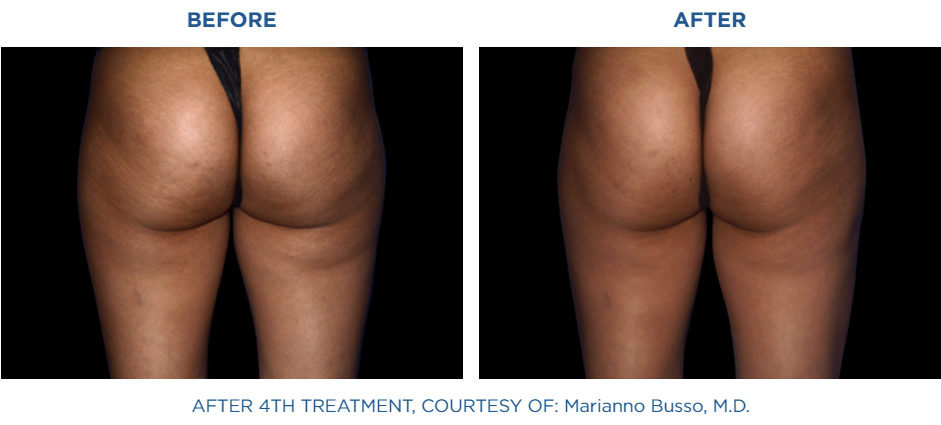 Emtone is one of the most popular cellulite reduction treatments. It targets all the causes of cellulite to rejuvenate the dermis for smooth, dimple-free skin.
Emtone works by targeting:
The loss of skin elasticity
The breakdown of collagen and elastin
Decreased blood circulation
Enlargement of fat cells
Any fluid retention
The accumulation of metabolic waste
Cellulite Treatment cost varies per patient. This skin treatment is highly customizable. Factors affecting Emtone prices include the treatment area, the number of procedures required to obtain optimal outcomes, and discounts from package pricing and other promotions.
Scheduling a consultation with Reston Dermatology + Cosmetic Center allows you to speak in-depth with our staff about prices. If this treatment is right for you, our team will customize a tailored plan to your body, goals, and budget.
Emtone treats several areas of the body that are notorious for cellulite. The most popular treatment areas include:
The belly
Thighs
Buttocks
The arms
Cellulite is a common condition among women. More than 90% of grown females have cellulite on some part of their body. Hence, cellulite is a normal part of being a woman. Although natural, many people find cellulite a cosmetic concern.
Unfortunately, no cellulite treatment can get rid of cellulite completely. But Emtone can significantly improve the appearance of dimpled skin.
To understand how Emtone works, it's helpful to understand the physiology of the skin and how cellulite forms.
The skin has three layers. At the bottom is the subcutaneous layer. This layer consists of fat cells. The layer above the subcutaneous is the dermis. This layer consists of structural proteins like collagen and other connective tissues that support the skin. The last layer is the epidermis. This is the outermost layer of skin and consists of skin cells.
Within the skin, a matrix of tissues and fibers known as fibrous septae connects the skin to the muscle. These bands of tissue partition fat cells into lobes. Over time, the fibrous septae weaken, thicken, and shrink. This causes the fibers that connect to the top of the skin to tug downwards. As the tissues pull down, the surrounding fat lobes bulge through the connective fibers. This creates the look of ripples on the skin.
Other factors exacerbate the appearance of cellulite. These include enlarged fat cells, metabolic waste buildup, and poor circulation, to name a few.
Emtone combines two technologies to target the causes of cellulite. Treatments help rejuvenate the skin to look smoother, healthier, and more youthful.
During an Emtone treatment, Radiofrequency (RF) and acoustic energy penetrate the deep layer of the dermis. Scientific studies show that thermal heating and acoustic vibrations cause a cascade of therapeutic responses. This includes:
The disruption of fat cells: This helps reduce the subcutaneous layer that bulges through the skin's connective tissue.
The creation of collagen: This strengthens the connective tissue that supports the skin, holding the bottom layer of the subcutaneous fat in place.
An increase in circulation: This stimulates the removal of metabolic waste that builds up and pushes on subcutaneous fat.
Emtone treatments dramatically smooth dimpled or rippled skin. Many patients notice results after one treatment. However, most require a series of treatments, usually 4, to achieve optimal cellulite reduction.
Improvement of the skin texture can be seen within weeks after the procedure. As with any cosmetic treatment, individual experiences will vary.*
To ensure optimal cellulite reduction select a reputable provider for your Emtone treatments. This cellulite removal process is technique-sensitive. The more experienced your provider, the better the results.
Reston Dermatology + Cosmetic Center is proud to provide an exceptional staff of professionals that provide optimal treatment results for each patient.
Cellulite Treatments Near Me
If you are interested in Emtone and want to learn more about this cellulite reducing treatment, contact Reston Dermatology + Cosmetic Center. We are a premier provider of Emtone in the Reston, VA area. We provide patients with a painless, convenient solution for embarrassing cellulite. Call us at (703)289-0918 to schedule your free consultation or reach out to us online.
Schedule aN EMtONE Consultation
By submitting this form you agree to be contacted via phone/text/email.

Schedule aN
EMtONE Consultation
By submitting this form you agree to be contacted via phone/text/email.