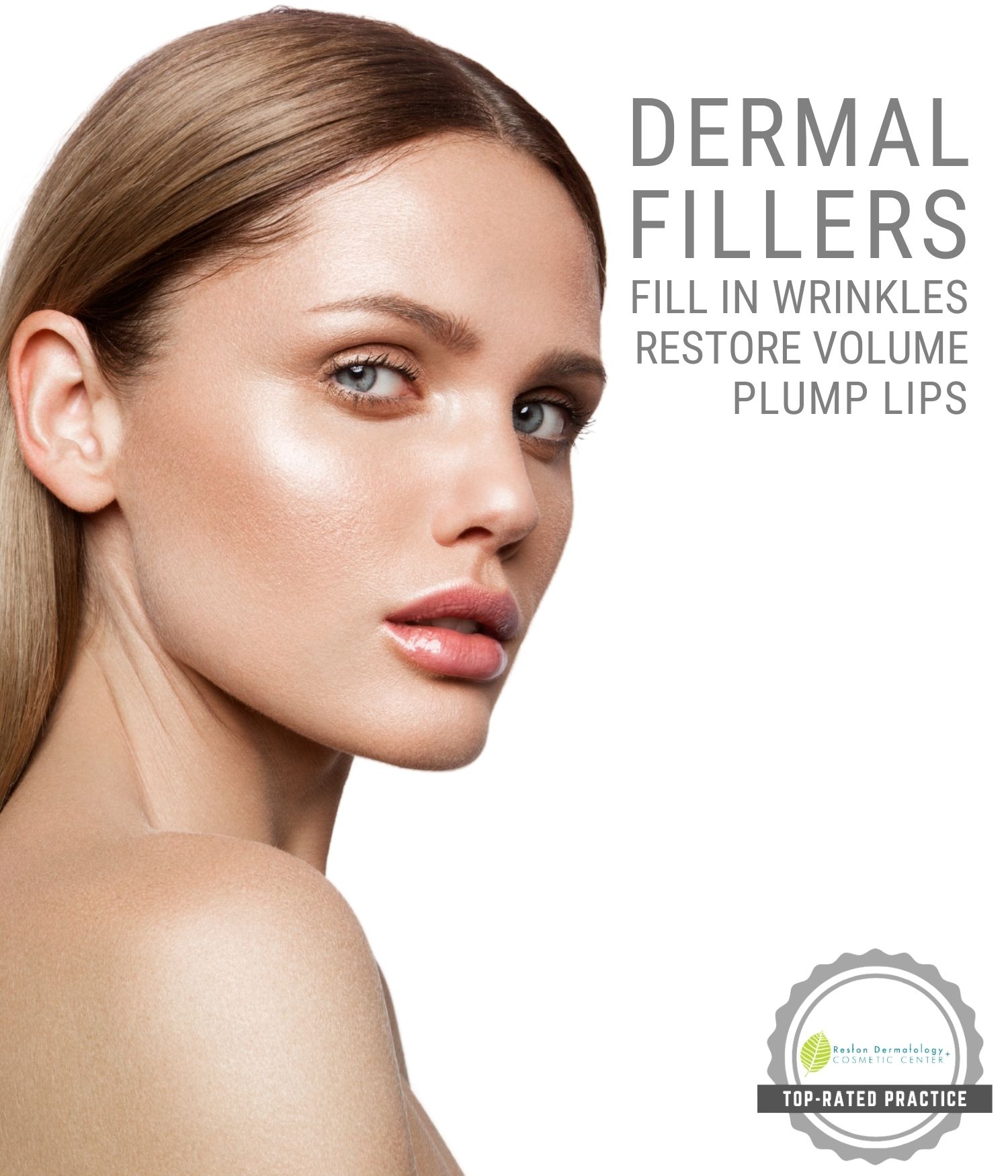 get $50 off Dermal Fillers
By submitting this form you agree to be contacted via phone/text/email.
Dermal Fillers at Reston Dermatology + Cosmetic Center IN NORTHERN VIRGINIA
Most dermal fillers are made of hyaluronic acid, which is naturally present in your body's cells. Hyaluronic acid injections are commonly used to restore volume, contour cheeks, plump lips, fill-in hollows, correct facial lines and folds, and rejuvenate hands, to name just a few uses! Upon injection, they readily attract and hold moisture for instant plumping and hydrating effects.
Hyaluronic acid is a naturally-occurring sugar that's found in the skin and joints. It readily attracts moisture and can hold up to 1000 times its weight in water. Accordingly, hyaluronic acid has the ability to instantly plump and hydrate soft tissue.
Two of the most popular hyaluronic acid fillers are Juvederm and Restylane. Both are FDA-approved and include an extremely diverse line of products that can be used to customize treatment.
Benefits of Dermal Fillers
Helps produce collagen naturally
Plump sunken areas and restore volume
Minimally invasive treatment
Natural-looking, long-lasting results
Great for severe wrinkles
Lip augmentation
Quick results
Dermal Fillers Before and After*
Fillers can be used on various areas of the face to enhance your look or roll back time. As with any anti-aging treatment, results will vary*. However, the before and after images show actual results from genuine patients of this treatment.
Juvéderm® Injectable Gel is a safe, effective gel that restores volume to the skin and smoothes away moderate to severe facial wrinkles and folds. Juvéderm® is the first FDA-approved dermal filler proven safe and effective for persons of color. The Juvéderm® gel is made of hyaluronic acid with a smooth consistency, allowing for easy injections and instant, natural-looking results. There is no pre-testing needed for this procedure.
Topical or injectable anesthesia may be used during this procedure to numb the treatment area and minimize any potential discomfort. The results of this procedure are available right away and can usually last for up to a year, the longest results available from any hyaluronic acid product.
The world's most popular and most studied cosmetic dermal fillers, Restylane® and its new companion Perlane® offer exceptional treatments for moderate to severe facial wrinkles and folds, especially the nasolabial folds that stretch from the nose to the corners of the mouth.
Restylane and Perlane replenish lost volume in the skin and restore youthful contours to the face by lifting and supporting tissues non-surgically. The outcome is a younger, smoother look with fewer lines and wrinkles. Results are immediate and long-lasting.
Restylane and Perlane are clear, synthetic gels made with purified hyaluronic acid, a natural sugar that is found throughout your body. Hyaluronic acid works with collagen to support the skin and keep it smooth and supple. The hyaluronic acid in Restylane and Perlane has been modified so it lasts longer. It forms strong bonds with water molecules in the skin, prolonging its rejuvenating effects for up to six months or more.
Radiesse® is a synthetic injectable filler that has been approved by the FDA to reduce moderate to severe wrinkles, folds, and creases around the nose and mouth by stimulating the natural production of collagen in the skin. This product is made of microspheres composed of calcium hydroxylapatite within a water-based gel and is made from minerals similar to what makes up our bones. Radiesse can be injected directly into the skin with no need for pre-testing.
How do you choose the best filler for your needs? Radiesse, Restylane, and Juvederm are all safe and FDA approved. Radiesse is longer lasting than its competitors, usually by a number of months. It can also provide more facial contouring as well as the elimination of lines. However, Radiesse cannot be used on the lips because it may cause bumps. In some cases, it produces more swelling than Restylane or Juvederm. It also maybe a little more painful a procedure to receive. If there is an allergic reaction or uneven appearance, Restylane and Juvederm are easy to remove, while Radiesse is more difficult.
Your physician can further discuss the advantages and disadvantages of each product to determine which one will best suit your particular requirements.
Belotero® is the latest, most advanced form of dermal filler available today. It has a unique ability to integrate with the tissues of your skin, providing volume and a more youthful shape to your face. Belotero® can reduce lines and wrinkles while enhancing your own facial contours.
As we get older, our skin's production of the substances that keep it moisturized and supple begins to slow, resulting in an increase in wrinkles and lines. But Belotero® is a dermal filler that incorporates one of these natural substances, hyaluronic acid (HA), to help you achieve smoother, more youthful-looking skin once again.
In clinical studies of Belotero®, 97 percent of patients showed a visible improvement after a single treatment. Belotero® can eliminate even the finest of lines. Belotero® injections plump the skin subtly and evenly so patients appear relaxed and refreshed without looking like they have a noticeable implant.
There are different formulations of Belotero® available, making it ideal to improve a wide variety of skin issues. This filler can treat frown lines between the eyebrows, periorbital lines (crow's feet), nasolabial folds from the nose to the corners of the mouth, perioral lines and marionette lines from the corners of the mouth to the jaw. In addition, it can round the cheekbones, plump the lips, restore softness to the hands and décolletage and more.
The quick and nearly painless procedure typically takes 20 minutes and most people can return to work immediately afterward. The results of Belotero® treatment are not permanent and vary by individual. For most patients, the effects are still visible nine months after an injection. Follow-up treatments are typically done every six to 12 months.
Advancement in Filler Techniques and Composition
Have you noticed the evolution in filler recommendations and injection techniques that has happened in the last decade? We are no longer chasing wrinkles and folds.
Instead, we are creating scaffolding and foundational structural support to restore lift and replace natural looking volume using today's highly advanced techniques. Injecting just the nasolabial folds or splitting a syringe between cheeks aren't valid treatments anymore because we now know better!
I have patients who dictate where to place the fillers based on old knowledge, but where YOU think you need filler may in fact not be the best area to inject. Of course, it is always a discussion between patient and injector, but I suggest being open to previously unknown options. For the best results—not just so-so results—it's important to be open to your injector's suggestions and recommendations.
How Many Fillers Do You Need for the Best Results
Do you remember when injectors would only inject the nasal labial folds (lines from nose corners to outer corners of the mouth)?! We were chasing the folds and plumped them up! What we now know is that multiple syringes of filler in strategic places are needed for optimal results.
Newer hyaluronic acids are less chemically modified, more like the natural hyaluronic acids found in our bodies, are designed for dynamic facial movement, and will last longer. Some last up to 12-15 months!
Why not come in to meet one of our experts and discuss your vision for your appearance. Schedule your complimentary consultation today! Call us at (703)289-0918 or reach out to us online.

get $50 off Dermal Fillers
By submitting this form you agree to be contacted via phone/text/email.


get $50 off Dermal Fillers
By submitting this form you agree to be contacted via phone/text/email.